A Revolutionary New Concept in Fine Millinery
Flight of Fancy

Through the art of accessorizing a lady may express her personality or change the look of an outfit to suit a spectrum of occasions from casual to formal.

This is also true of hats, who, with personalities of their own, can change their look from subtle and demure to dramatic and captivating with the choice of just the right accessory.

Observe Flight of Fancy, adorned with white and black feathers, ready to attend the Kentucky Derby or Ascot.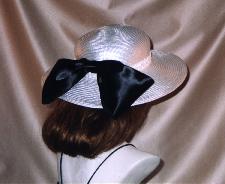 Classic Beauty
Now observe that Flight of Fancy is transformed into Classic Beauty, by removal of the feathered boa. Classic Beauty, a simple and elegant white straw hat ornamented with a black bow is now ready to accompany a lady wearing a tailored suit.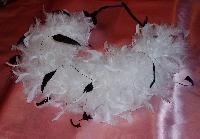 Millinery Boa
Yes, indeed, this boa is an accessory for a hat. While hats themselves are oftentimes categorized as accessories, it can now be seen that in fact a hat is a necessity; it is the hat which invites accessories.
Through implementation of this great millinery principle and your tasteful imagination, the possibilities are endless for creating exciting new looks to meet your varying style requirements.
This is the "VersiStyle" Concept: a hat which changes in style through millinery ornamentation which will reward you with many flattering styles and years of hat wearing pleasure.
Undoubtedly, your creativity is beginning to work, and perhaps you have a silk scarf with colors to complement your complexion which could be added to a hat or a favorite heirloom brooch. In addition to items which you may have, there are many specialty millinery ornaments, such as feathers, boas, flowers, bows veiling, ribbonwork and more.
Modern Sophisticate
Let's take a look at a few more stunning examples of hats which by varying the ornamentation will complement a broad range of apparel in your wardrobe and carry you successfully through many occasions as well.
Here we have Modern Sophisticate, looking simply elegant in black and appropriate for many occasions with her classic shape and styling.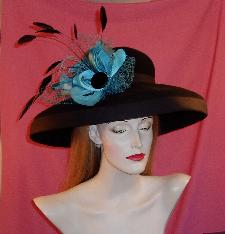 Modern Sophisticate with coque feathers, teal flower and veiling ornament
But let us say that you wish to liven up this look with color. The addition of the teal flower with black velvet center, decorative veiling and iridescent coque feathers adds a dash of intense color as well as a sense of fun while maintaining her classic lines.
Modern Sophisticate with triple ostrich plume
For an occasion demanding a grand entrance, a lush, curled triple ostrich plume lends a graceful, yet stately effect.
Now the question may arise as to how these various ornaments are attached to the hat. Generally, this is accomplished through the use of hat pins and your millinery designer or ambassador can demonstrate this to you.
From the many preceding examples, it may be wondered whether every hat can be a VersiStyle hat. While the answer to this question is no, it is not to be lamented. In some cases it is necessary for the ornamentation to be sewn on to achieve just the right effect. Other hats draw their beauty not from ornamentation but from unusual or intriguing shapes or special materials which are appreciated for their own sublime or splendid properties.
I believe that you will find the VersiStyle hat to be an important part of your millinery wardrobe. By providing your hats with the quality accessories they deserve, they will return the favor, by lifting your spirits and imparting a grace and confidence to meet any occasion.